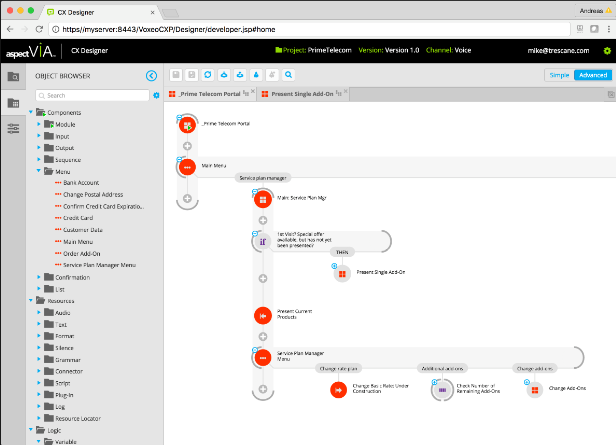 CXP Cloud Features
Aspect's CXP Cloud allows you to build powerful voice and messaging applications: IVR services for inbound call routing and self-service and pro-active outbound scenarios, mobile web self-service applications, and text-based applications - chatbots - on a variety of channels including SMS, facebook Messenger, Twitter, webchat, and more. And CXP's Continuity Server makes it easy to orchestrate the customer journey across these channels.
Intuitive Web interfaces for service creation, deployment, and analysis
1-click Service Deployment with hot redeployment and rollbacks
Omni-channel Application Management
Dynamic Personalization
Seamless Back-end Integration with SOAP and RESTful web services
Integrated Natural Language Understanding (NLU) for the creation of smart chatbots
Deep Application Analytics through cloud-based reports
No Infrastructure Set-Up required
99.999% SLA, backed by fully redundant and resilient cloud infrastructure
PCI/DSS compliant
Get A Free Evolution Account
CXP Hosting requires an active Evolution account. If you don't already have an Evolution account, visit our account registration page to sign up. As a registered member, you'll also have access to the Aspect Customer Care Center should you have any questions about using CXP Hosting.



Introduction
Use this page to learn more about CXP Hosting, its features.
Additionally, below you'll find a link to download the Eclipse-based CXP Developer client software which you can use in conjunction with - or as an alternative to - the web based tools. Once installed, you can connect to our CXP Cloud services.

Download CXP Developer

If you have any questions or problems, please visit the Aspect Customer Care Center to get assistance from our 24/7 support team. We're standing by to help!