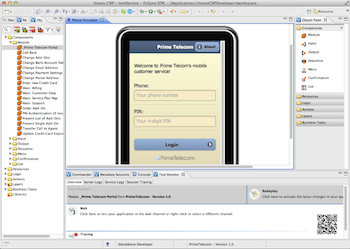 CXP Hosting Features
CXP Hosting allows you to build powerful voice and messaging applications with an Eclipse IDE client. The IDE client connects to our Evolution hosted network so you can build your applications and let Voxeo take care of the hosting.

In addition to a simple drag-and-drop interface, CXP Hosting offers:
1-click Deployment to Voxeo Evolution
No Infrastructure Set-Up required
Multichannel Application Management
Deep Analytics through 14+ out-of-the-box reports
Dynamic Personalization
Seamless Back-end Integration
Integrated Speech Grammar IDE
Hot redeployments and rollbacks
Media Platform independence
Natural dialog management
Get A Free Evolution Account
CXP Hosting requires an active Evolution account. If you don't already have an Evolution account, visit our account registration page to sign up. As a registered member, you'll also have access to the Aspect Customer Care Center should you have any questions about using CXP Hosting.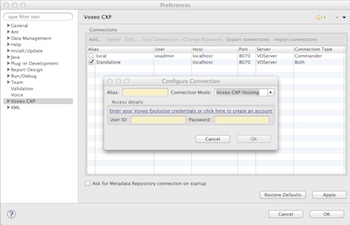 Configuring CXP Hosting
CXP Hosting uses your Evolution account to connect to Voxeo's hosted CXP services. To configure CXP Hosting, open your CXP Developer and open the Eclipse Preferences window.

On a Mac OSX installation, you'll find the Preferences panel under Eclipse -> Preferences.... In Windows, you'll find it under Window -> Preferences....

At the Preferences window, you'll then select Voxeo CXP in the left-hand pane. Then add a new connection with the type Voxeo CXP Hosting and enter your Evolution username and password in the Access details section.

Next, click the Test connection button to verify that your credentials were entered correctly. Assuming everything worked, you can now create new Voxeo CXP services which you can map to your Evolution applications.
Creating Evolution Applications
After creating and modifying your services in the CXP Developer client, open the Evolution website, login to your account, and head on over to Account -> Application Management. To map one of your Voxeo CXP services to an Evolution application, simply select the CXP Hosting application type and then select the CXP Hosting service you wish to map.

Introduction
Use this page to learn more about CXP Hosting, its features, and its configuration.

Additionally, below you'll find a link to download the Voxeo CXP Developer client software which you'll need to build CXP Hosting applications.

CXP Hosting requires the installation of our free Voxeo CXP Developer 14 software. Once installed, you can use the software to connect to our CXP Hosting services.

Download CXP Developer 14

If you have any questions or problems, please visit the Aspect Customer Care Center to get assistance from our 24x7 support team. We're standing by to help!