You can create and test your own enhanced voice applications via Skype and Voxeo for free!
For more information about our partnership with Skype, read the Voxeo and Skype Partnership press release.
Take advantage of the Voxeo Evolution Skype Developer program
You can now use the Skype client to call applications on the Voxeo Evolution Hosted IVR platform. Evolution is a comprehensive developer program that provides access to Voxeo's hosted VoiceXML, CCXML, and CallXML voice application platforms, multi-language voice recognition and voice synthesis, call recording, call conferencing, dozens of tutorials, extensive documentation, and more that you can use to build applications and content for Skype users.
The Voxeo Evolution Skype Developer program is absolutely free
Unlike other companies that charge developers, our developer programs are absolutely free. We're here to help you build Skype applications, not to hinder you with unnecessary charges.
Launch your Skype application using Voxeo production IVR Hosting
When your application is finished and you're ready to support customer traffic you can turn to Voxeo to provide reliable production-hosting for your new Skype applications. Voxeo's production hosting plans work like cellular plans. You can either sign up for a contract with a monthly price and bundled minutes, or purchase minutes on a pre-paid basis. For more information, just contact us.
Get started today...
In order to begin developing apps Skype users can access, free or fee based, follow the simple steps below.
| | | |
| --- | --- | --- |
| | | Get a Voxeo Evolution account and Skype software |
If you don't have a Voxeo Evolution Community account yet, sign up for one here.
| | | |
| --- | --- | --- |
| | | Use Voxeo and Skype to build and call your applications |
Use the free tools, tutorials, and other development resources provided on the Evolution developer portal to create and deploy your application.
Use the free Skype software to call and test your applications from anywhere in the world without the need to pay long distance charges.
To call the Voxeo platform from Skype, use the handy Skype address link shown next to the other contact methods for your application.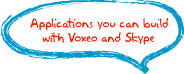 Use the Voxeo Community to create the widest variety of communications applications, including:
Information retrieval
Telephone surveys
Emergency notifications
Virtual receptionists
Call center automation
Order status
Package tracking
Conferencing solutions
Audiotext platforms
Virtual call centers
Virtual PBX's
Predictive dialers
Voicemail services
Dating chat services
Voice instant messaging
Voice verification
Unified messaging
Bill reminder
Bill collection
Account balance & transfer
Voice Portals
Telesales
Email by phone
Virtual agents
Telephone CRM
Auto attendants
Call routing
Call recording solutions
Audio broadcast services
Real estate information lines
Political campaigning
Political polls